Ambrotype of "galvanized Yankee" William H. Merriman
Provided by:
Tennessee State Library and Archives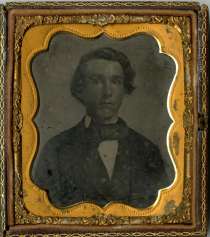 William H. Merriman (1838-1865) was from Hawkins County, Tennessee. He served as a Corporal in the Co. B, 60th Tennessee Volunteers, CSA. He was captured at Big Black River, Mississippi, and held at Point Lookout, Maryland, as a prisoner of war. Later he enlisted in the Union army to fight Indian campaigns in the West; such converted Confederates were called "galvanized Yankees."