"Centralia Cavalry Company," Illinois unit that served in Memphis, Tenn.
Provided by:
Tennessee State Library and Archives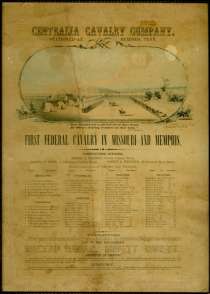 The 1st Ill. Cav. Regt., according to the poster, "bushwhacked and jayhawked" across southeast Missouri. It shows the regiment's encampment at Memphis, Tenn. One of unit's corporals was G. W. Garber, an alias of David P. Sherfy of Jonesborough, Tenn.