Battle of Collierviille
Location:
125 Walnut Street
Collierville, TN 38017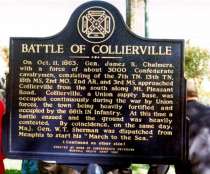 Colliersville's strategic location on the Memphis and Charleston Railroad provoked much attention from both sides during the war. Union forces often occupied the town and Confederates operated against it, hoping to disrupt the Federal supply line. Three thousand Confederate cavalrymen attacked about 600 Union soldiers camped along the railroad on Oct. 11, 1863.