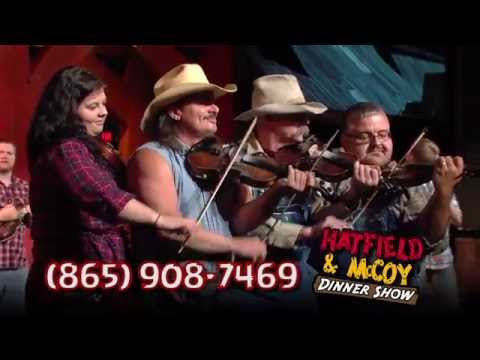 It's Feudin' Feastin' Family Fun at The Hatfield & McCoy Dinner Show! Become part of the longest running feud in history and help the Hatfields and McCoys try to settle their differences mountain-style. Whether you're city-folk or country cuzins, you'll love the singing and dancing, mighty feats of strength, jaw dropping stunts and side-splitting comedy. There's something here for everybody!
Don't forget about the country cookin' — whooee it's good! Granny's cookin' up a heap of fried chicken and country pulled pork shoulder barbecue! Add mashed taters, creamy cole slaw, buttery corn on the cob, ma's hot homemade bread, creamy vegetable soup and Granny's special dessert and you'll need to loosen up your belt! Best dinner in town – Granny guarantees it! Show times are 5p.m. and 8 p.m. daily. Come hungry – it's all you can eat! 
---
Tennessee Vacation eGuide

The 2016 eGuide gives you instant access to Tennessee's irresistible attractions and destinations. Peruse venues online, then put in your order to get a free guide delivered to your doorstep.