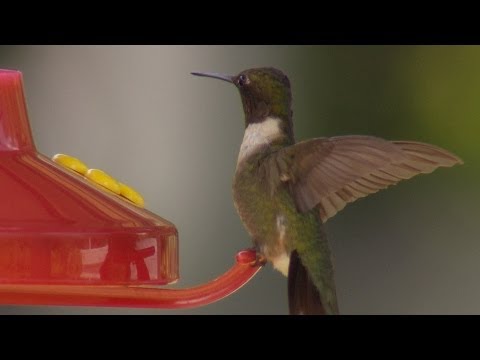 On Saturday, August 23th, at
the fourth annual Wonder of Hummingbirds Festival, Knoxville
residents and visitors will have the opportunity to learn more about
the fascinating lives of Ruby-throated Hummingbirds and see them
up-close at the banding table. Mark Armstrong, a certified Master
Bander of both hummingbirds and songbird species, will demonstrate
how hummingbirds are harmlessly captured, weighed and measured, and
banded before being released to continue their migration journey.The
festival will treat visitors to renowned speakers on nature topics,
live animal demonstrations, guided nature walks and vendors selling
food and drinks, locally made arts and crafts, bird feeders and
supplies, garden items, and a "Bargain Barn" selling gently used
books and other merchandise with nature-related themes. New for 2014,
a special children's area will offer educational activities for
kids and child-focused nature walks! Environmental Man, portrayed by
Oliver Lang, will also enchant children with his food-chain costume
and his ability to channel familiar animals that tell him stories
containing valuable lessons about conservation.
Expert speakers will present programs
from 9:00 a.m. to 2:00 pm. The Wonder of Hummingbirds Festival will
take place Saturday, August 23th from 8:00 a.m. to 3:00
p.m. and has an admission of $5.00. Children under six are admitted
free. Hummingbird banding will begin at 8:00 a.m. and last until
2:00 p.m. The festival is co-sponsored by the Knoxville Chapter of
the Tennessee Ornithological Society and Ijams Nature Center, and
will be located at Ijams Nature Center, 2915 Island Home Ave.,
Knoxville, TN 37920 (865-577-4717).   
---
Tennessee Vacation eGuide

The 2016 eGuide gives you instant access to Tennessee's irresistible attractions and destinations. Peruse venues online, then put in your order to get a free guide delivered to your doorstep.