3rd Tennessee Infantry Flag
Provided by:
Historic Civil War flags provided by the Tennessee State Library and Archives and the Tennessee State Museum.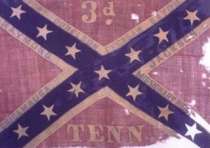 Organized May 1861, under a sugar maple tree at Lynnville Station in Giles County, Middle Tennessee. The regiment was composed of 10 companies of picked men from Pulaski, Giles County; Mt. Pleasant, Maury County; Elkton, Giles County; Lawrence County; Cornersville, Giles County; Spring Hill, Maury and Williamson Counties; Lynnville, Giles County; Culleoka, Maury County; Campbellsville, Giles County; Lewis and Hickman Counties.