Plant's revolver recovered at Shiloh
Provided by:
Tennessee State Library and Archives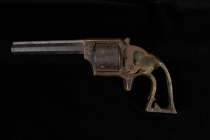 Plant's Company front-loading revolver, manufactured during the 1850s in New Haven, Conn. It was recovered from the bank of the Tennessee River, opposite Pittsburg Landing, by two fishermen in 1997. The pistol was a civilian sidearm. Given the location it was found, it may have belonged to an officer in Gen. Don Carlos Buell's army who lost it ferrying across the river the night of April 6, 1862.