Ambrotype of Pvt. Charles E. Sneed
Provided by:
Tennessee State Library and Archives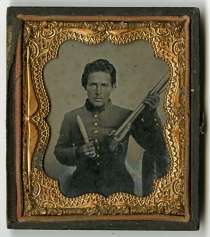 Pvt. Sneed was from Rutherford Co., Tenn. and enlisted on Nov. 26, 1861 in Nashville. He served in Co. F, 4th (Starnes'-McClemore's) Tenn. Cav. Company F was known as "The Williamson County Cavalry." In 1862, they reported to Gen. Nathan Bedford Forrest, and fought at Parker's Crossroads and Thompson Station. Sneed served until Feb. 25, 1865.