Photograph of black Confederate veteran Reuben Patterson
Provided by:
Tennessee State Library and Archives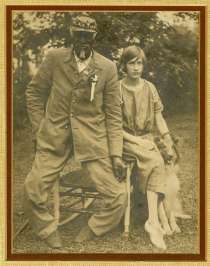 African American Confederate veteran Reuben Patterson posed in his uniform with Mary Gardner Patterson, the granddaughter of Josiah Patterson, in Memphis, Tennessee in 1924. He traveled from Florence, Alabama to attend a Confederate veterans' reunion and proudly wore his Confederate uniform for the picture. Reuben accompanied his master's son, Col. Josiah Patterson, 5th Alabama Cavalry, CSA, throughout the Civil War. Josiah's son, and Mary's father, was Malcolm Rice Patterson, the 27th Governor of Tennessee, serving from 1907-1911.