Letter from Pvt. Alexander Brabson Walker about the Battle of Stones River
Provided by:
Tennessee State Library and Archives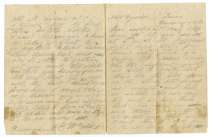 Pvt. Alexander B. Walker was in the 12th (Day's) Tenn. Cav. Bn., CSA, and part of the January 1863 retreat of Bragg's army from Murfreesboro, Tenn. In describing the battle, Walker wrote, "I have seen the elephent [sic]," a common phrase used by Civil War combatants.