Battle of Island No. 10
Location:
2515 St. Rt. 22
Tiptonville, TN 38079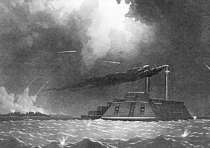 Flag Officer Andrew H. Foote and his seven Union gunboats began a 3-week bombardment to capture the island and end Confederate control of northwest Tennessee.
The opening of hostilities between the Confederate States and the United States in the spring of 1861 found both belligerents woefully unprepared. Confederate strategists knew that the Mississippi River offered a broad avenue of invasion; the river had to be defended if Southern independence was to be realized. Confederate control of the Mississippi was vital to the unification of the seceding states east and west of the Mississippi Valley and could effectively cripple the agricultural economy of the midwestern states of the Union.

Early in the war, the Confederate forces under the direction of General Leonidas Polk fortified Island #10, near the Kentucky-Tennessee state line. In 1861 Island #10 was part of a chain of islands in the Mississippi River lying below Cairo, Illinois, that led into the heart of the Confederacy, so named for its position as tenth in this chain from north to south.

A Confederate force of approximately 7,000 troops manned the island defenses. General W. W. Mackall was in command at the time of the Union attack in March 1862. Seven Union gunboats under the command of Flag Officer Andrew H. Foote bombarded the island for three weeks. Heavy bombardment, high water, and the successful movement of the Union gunboats past the Confederate guns forced the surrender of the island on April 7, 1862. Polk evacuated as many soldiers as possible on an assortment of river transports while under fire from two of Foote's gunboats. Union soldiers pursued the retreating Confederates into the swamps and captured over 6,000 prisoners near Tiptonville.

With the collapse of Island #10's defenses, military activities moved farther south, effectively ending Confederate control of northwest Tennessee for the duration of the war.
Tools
Key Facts
Heavy shelling, high water and successful Union boat movements forced Confederate surrender on April 7, 1862.
Polk evacuated as many troops as possible, but Union pursuers captured about 6,000 prisoners.
Related