Memphis National Cemetery
Location:
3568 Townes Avenue
Memphis, TN 38122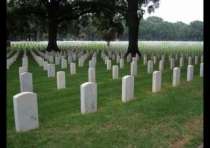 Thousands of unknown Union soldiers are buried in this cemetery established shortly after the war. Memphis was the site of large hospitals after the Union takeover in 1862; the dead from these hospitals, camps and area battles were reburied here. Drive or walk around the grave sites of veterans while learning local history dating back to the Civil War. Of the 13,965 soldiers buried at this site, 8,866 are unknown. Other burials include those from the USS Sultana, which sank in April, 1865 and ranks as one of the nation's deadliest maritime disasters with 1,700 soldiers and crew lost. Open Monday-Friday. Admission is free.
Tools
Key Facts
Many of the victims of the April 1865 Sultana riverboat disaster are interred here.
Related