Nashville National Cemetery
Location:
1420 Gallatin Rd. S.
Madison, TN 37115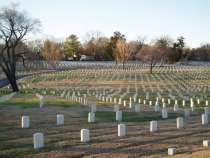 The remains of more than 12,000 Civil War-era Union soldiers are buried here. A statue dedicated in 2006 honors the United States Colored Troops who fought in the Civil War.
One of the oldest private markers in the cemetery is a spire in Section M, dedicated to the memory of James A. Leonard of the 1st Kansas Battery, killed by guerillas on Jan. 23, 1864 and interred on Jan. 27, 1864.

In 1920, the State of Minnesota erected a monument in Section MM inscribed, "In memory of her soldiers here buried who lost their lives in the service of the United States in war for Preservation of the Union--AD 1861-1865."

Chaplain Erastus M. Cravath, 101st Regiment Ohio Volunteer Infantry, was interred in Section MM. Chaplain Cravath was one of the founders of Fisk University in Nashville, and served for 25 years as its president.

Colonel James W. Lawless, 5th Kentucky Cavalry, was buried in Section MM on June 25, 1899. Col. Lawless was born in Ireland and came to the United States at the age of 16.

Colonel Edward S. Jones, Commander of the 3rd Pennsylvania Cavalry, was also the founder of the Department of Tennessee and Georgia Grand Army of the Republic and served as Commander for many years. He was interred in Section MM.
Tools
Key Facts
Many of the bodies were removed from Middle Tennessee and Southern Kentucky battlefields.
Most came from burial grounds around hospitals in the area.
Open daylight hours.