Battle of West Harpeth
Location:
239 Franklin Road
Franklin, TN 37064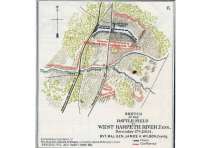 James H. Wilson and his Union cavalry relentlessly pursued John Bell Hood after his defeat at Franklin, engaging his rear guard at every chance. The cavalry faced the Confederate line on Columbia Pike and pushed them across the West Harpeth River.
Despite suffering a devastating loss of life at the Battle of Franklin on November 30, 1864, Gen. John Bell Hood attacked the Federal force at Nashville on December 15 and 16. Hood was dealt another blow when his army was routed from the battlefield on December 16, beginning a 250-mile retreat to Tupelo, Mississippi. Gen. James H. Wilson [USA] and his cavalry corps relentlessly pursued Hood, engaging his rear guard at every possible chance. Gen. Carter L. Stevenson [CSA] brought up the rear of the rear guard with two infantry brigades, totaling about 700 men, and a limited number of cavalry. Roughly three miles south of Franklin, Stevenson formed a line of battle across the Columbia Pike with his infantry in the center and the cavalry on the flanks. Col. Datus Coon's brigade of cavalry [USA] engaged the Confederate line, disbanding Stevenson's cavalry almost immediately. After the 2nd Iowa broke through and attacked his rear, Stevenson formed his force into a hollow square formation and, fighting constantly, continued moving down the pike. Learning of Stevenson's troubles, Gen. Henry D. Clayton [CSA] ordered his division into a line of battle across the pike about one mile north of the West Harpeth River and quickly dispatched a brigade to reinforce Stevenson and bring him down the pike. Absorbing Stevenson's division, Clayton moved the entire line behind a fence. Nearing the new Confederate position, Wilson ordered his men to attack the Confederate left, right, and center simultaneously. Just as the Federals formed up on the pike, Douglas's Texas Battery [CSA] opened fire on Wilson. The two forces clashed as darkness set in, and the men fought by the light of gunfire with hand-to-hand combat quickly ensuing. The Federals managed to gain the rear of the Confederate line, pushing their enemy across the West Harpeth River. Here they overran Douglas' Texas Battery, taking all three of its cannons and five of its men prisoner. The exhausted Federals ended their pursuit at 10 p.m., allowing the Confederate rear guard to form up on the pike and continue south towards Spring Hill.
Tools
Key Facts
Confederate Gen. Hood, having suffered defeats at Franklin and Nashville, began a 250-mile retreat, followed by Gen. James H. Wilson [USA] and his cavalry. Federals battled in darkness and chased the Rebels until 10 p.m.
Related