Mountain Home Veterans' Retirement Facility and National Cemetery
Location:
809 Lamont Street
Johnson City, TN 37684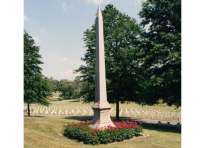 Representative of veteran aid efforts that developed after the Civil War, this home, built in 1903, provided housing, care and training for Union veterans in the south.
Opened in Johnson City, Tennessee, in 1903, Mountain Home served as a retirement facility for U. S. military veterans until 1973, when a newer facility opened. Formally known as the Mountain Branch of National Home for Disabled Volunteer Soldiers (NHDVS), the retirement facility is representative of the veteran aid efforts "that developed rapidly after the Civil War and became increasingly important in terms of medical care [for] veterans after 1900," a "precursor" to the modern day Department of Veterans Affairs. It sought to provide to Union veterans living in the south "housing, medical care, education, training, and employment." The buildings on the roughly 250-acre campus represent the Beaux Art style characteristic of the work of New York based architect Joseph H. Freedlander and have changed little or not at all since their construction. Visitors are able to see the original administration building, hospital, mess hall, barracks, chapel, theater, cemetery, parade grounds, and bandstand. A nearby collection of 1920s duplexes represents the staff increases made to provide "comprehensive medical care" for veterans following World War I. The adjacent 92-acre cemetery has grown to more than 10,000 plots since Mountain Home's establishment, including veterans from all major U. S. conflicts since the Civil War. Four Medal of Honor recipients are interred here, including two Civil War veterans: Sgt. Henry G. Buhrman and Lt. Frederick Clarence Buck. Visitors must check in with the police or the director's office and can then walk or drive through the campus The cemetery is open from dawn to dusk seven days a week. Tours of the chapel and the clock tower must be arranged prior to arrival. A museum operated by East Tennessee State University is also available to the public on Tuesday, Wednesday, and Thursday; visits outside established business hours can also be arranged prior to arrival.
Tools
Key Facts
A precursor to today's Department of Veterans Affairs, hospital has 250-acre campus, museum, chapel, clock tower
Cemetery includes graves of 4 Medal of Honor recipients
Beaux Art style characteristic of architect Joseph H. Freedlander