Battle of Bull's Gap
Location:
150 E. Washington St
Rogersville, TN 37857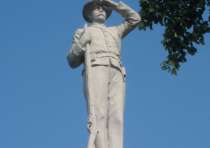 Confederates paid a high price for a rash attack in November 1864 as they tried to push Union troops further from Bristol at Bull's Gap, the site of several skirmishes.
When Federal cavalry began roaming up East Tennessee's Watauga Valley in late 1864, Maj. Gen. John C. Breckinridge in southwestern Virginia decided they were too close to Bristol and resolved to push them back. Gathering up a hodgepodge of troops, Breckinridge moved down the railroad line to Greeneville, which he reached on November 10. Brig. Gen. Basil Duke then pushed the Federal rear guard out of Lick Creek and chased them to Bull's Gap. Union commander Brig. Gen. Alvan C. Gillem, showing some feistiness, sortied several times from the Gap, but Duke kept pushing him back. When Breckinridge arrived, he determined to attack up the mountain the next morning. Although Duke thought the movement reckless, both he and Breckinridge were in the thick of the fighting on the morning of November 12. Breckinridge had devised a coordinated assault on the Union front, flank, and rear and, during the event, his commanders managed to hit all three points at the same time. The flanking force on the Union left, consisting of dismounted cavalry led by Breckinridge in person, carried a line of trenches in hand-to-hand fighting. But this was not Missionary Ridge below Chattanooga where attackers from below overwhelmed defenders at the top. Unable to capture two forts at either end of the Union line, exhausted Confederate troops stumbled back down the steep mountainside to lick their wounds, victims of steep terrain that was well-defended. As Brig. Gen. Gillem related in his report, "Some of their (the Confederate) dead were inside of our breastworks." He also reported "27 dead (Confederates) and many wounded in front of our lines." Breckinridge's soldiers paid a high price for their commander's rash attack.
Tools
Key Facts
Brig. Gen. Basil Duke pushed the Federals out of Lick Creek, chased them to Bull's Gap Against advice of others, Maj. Gen. Breckinridge ordered an attack on Union troops positioned on a steep mountain but failed.
Related