Battle of Rogersville
Location:
150 E. Washington St
Rogersville, TN 37857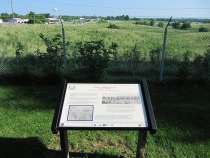 "Grumble" Jones' troops routed Union regiments. Burnside ordered Union troops to stay in Greenville and protect vulnerable Bull's Gap.
Following the Union invasion of East Tennessee from Kentucky in early September 1863, Maj. Gen. Ambrose Burnside was generally successful in pushing Confederate forces back into southwestern Virginia. In October, the Union army defeated a small Confederate army at Blue Springs, initiating a wild retreat by southern troops to Jonesborough and, eventually, all the way to Abingdon, Virginia. But in November, Burnside experienced a small crisis of his own at Rogersville in upper East Tennessee, where a Confederate force under Brig. Gen. "Grumble" Jones routed some Kentucky and Ohio regiments commanded by Col. Israel Garrard, capturing about 800 prisoners. Learning that Garrard and his regiments were encamped near Big Creek, about four miles from Rogersville, Maj. Gen. Robert Ransom on November 3 bluntly ordered Jones to attack. With an eye on the weather, Ransom worried that the Holston River might rise, as he made clear to Jones, "It looks as though it would rain, and we may be prevented from making the movement." Ransom further instructed Jones, "After starting directly for Rogersville, rapidity will be required both in the execution of your march and attack, and in your return to your present position." Jones promptly sallied forth from Kingsport and drove straight at Garrard on Big Creek, where he succeeded in surrounding the Union force and stampeding the Seventh Ohio Cavalry. Caught in a vise between Col. Henry Giltner's Second Cavalry Brigade and the Second East Tennessee, the Union rear guard of mounted infantry promptly surrendered. With the action at Rogersville opening Bull's Gap to Confederate exploitation, Burnside ordered Union forces at Greeneville to fall back and protect the Gap. Fortunately for the Federals, "Grumble" Jones elected to stay put in Rogersville to avoid any chance of entrapment on the railroad between Rogersville and Bull's Gap.
Tools
Key Facts
Gen. "Grumble" Jones' Confederates routed Union regiments, captured 800 prisoners.
At Big Creek, Jones stampeded the 7th Ohio Cavalry
Burnside ordered Union forces at Greeneville to protect Bull's Gap, made vulnerable by the Rogersville action.
Related