Carter's Raid
Location:
Route 70 and Route 33
Kyles's Road, TN 37765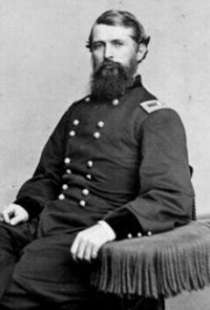 Carter's Union troops destroyed a railroad bridge and a captured locomotive after a battle at the depot, then mounted their horses and headed to Kingsport after almost 3 days continuously in the saddle.
In late December, 1862, Brig. Gen. Samuel P. Carter led 1200 cavalrymen into East Tennessee from Kentucky to raid the East Tennessee and Virginia Railroad. On December 30, Carter moved rapidly from Blountville to Union and, without wasting time, dispatched Col. Walker and a strong force to Carter's Depot, about ten miles west of Union, to burn the railroad bridge across the Watauga River. Riding along the railway line, Walker and his cavalrymen fortuitously intercepted a locomotive advancing to investigate reports of Union activity at Union, capturing Col. Robert Love, who commanded about 200 Confederate troops defending Carter's Depot. The northern raiders then reversed the train and rode it back into the station, where Love's men deployed to meet them. Col. Walker immediately ordered a charge, which broke the Confederate line, sending the defenders scampering towards a nearby copse of woods. Two companies of the Ninth Pennsylvania under Maj. W. P. Roper set out in pursuit, capturing and killing many Confederates before they reached safety. Union losses were slight—two killed and at least three wounded. The Confederate force lost 12 to 16 killed, with a like number wounded. There may have been more wounded men who fled into the woods. Following the skirmish, Union troops quickly fired the railroad bridge before destroying arms, stores and equipment found onsite. They had a little fun with the captured locomotive, which was gingerly rolled out onto the burning trestle where it dropped into the river when the bridge collapsed, taking out part of a stone pier in the process. With the task of destruction largely complete, Samuel Carter, sensing that his luck might be running out as forces inexorably began to converge on his position, decided the time was ripe for a return to Kentucky. During the early morning hours of December 31, the cavalry column mounted up and headed north to Kingsport, having been almost continuously in the saddle for three days.
Tools
Key Facts
Gen. Carter led 1200 cavalrymen to raid the railroad; they intercepted a locomotive and reversed the train back to the station
Walker broke the Confederate line, burned the railroad bridge and destroyed arms, stores and equipment