Cumberland Gap (II)
Location:
330 Colwyn Street
Cumberland Gap, TN 37724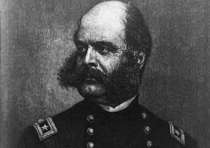 Burnside, hoping to secure his northern border, marched his men 60 miles in 2 days to take over bungled negotiations with Frazier's Confederate command and secure their surrender.
Following his unopposed occupation of Knoxville in September, 1863, Union Maj. Gen. Ambrose Burnside next turned to securing the northern border of his new department in East Tennessee by initiating a rapid movement against Cumberland Gap. Due to confusion in the Confederate high command, Brig. Gen. John Frazer had never received orders to withdraw; he still occupied the Gap with about 2500 southern troops. Frazer's cavalry brigade under Col. James E. Carter, which had been sent into Powell Valley on a scouting mission, escaped down the Abingdon Road to safety after encountering stiff resistance as it attempted to return to the Gap. Separate Union forces commanded by Gen. J. M. Shackelford and Col. John F. DeCourcy, respectively, surrounded the Gap on September 7, with each commander sending separate surrender demands to the Confederate garrison. Col. DeCourcy, believing his was an independent command, refused to take orders from Shackelford, his superior in rank. Frazer spurned all requests for surrender and prepared for battle, even though many of his units were reluctant to fight, a fact noted by Union soldiers shortly after the Confederate surrender. When Burnside reached the Gap from Knoxville on September 9 after force marching an infantry brigade 60 miles in two days, he promptly disavowed his subordinates' surrender demands and assumed control of negotiations, convincing Frazer that the entire Army of the Ohio was outside the Gap, waiting to attack. Sensing a hopeless situation and believing himself outnumbered, the southern commander surrendered his 2500 men along with large quantities of stores and ammunition. Had Confederate commanders not prevaricated and evacuated sooner, the Cumberland Gap garrison might have escaped to join other brigades further up the Great Valley of East Tennessee. After reading an account of the surrender written by Maj. B. G. McDowell of the 62nd North Carolina, Jefferson Davis branded the whole affair "a shameful abandonment of duty." Even so, no Confederate force was near enough to attempt a rescue.
Tools
Key Facts
Frazer never received orders to withdraw and prepared to fight despite others' reluctance
Burnside convinced Frazer that the situation was hopeless, captured 2500 men along with large quantities of stores and ammunition
Related