Great Western Furnace
Location:
State Route 49
Dover, TN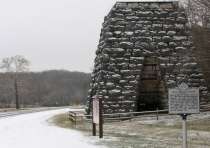 Built in the 1850s at the height of the industry, the Furnace fell into disuse but was occupied by Union troops and the site of numerous skirmishes. Its network of nearby roads was important.
Brien, Newell, & Company constructed the Iron Mountain and Great Western Furnaces in the first half of the 1850s during the height of the iron industry's success. By 1860, West Tennessee had become the south's largest producer of pig iron. The industry's subsequent decline rendered hard financial times for the company, which was forced to dissolve in 1854. The Brien brothers assumed control of the Iron Mountain Furnace and W. E. Newell and J. H. Pritchett assumed control of the Great Western. The iron industry continued decline due to a weakening national economy during the Panic of 1857. Newell and Pritchett attempted numerous times to sell the property and the furnace in the years preceding the war, but never found a buyer. Despite iron's importance to Confederate war operations, the Great Western Furnace remained dormant through 1861. After the fall of Confederate Forts Henry and Donelson in February 1862, Federal forces occupied the area around the furnace until the close of the war. Confederate and Federal forces used the network of roads in the vicinity of the furnace throughout the war, and this often lead to succinct violent clashes of small forces. During one such occasion in late August 1864, a squad from the 83rd Illinois Volunteer Infantry attempted to take prisoner six Confederates near the furnace. Their attempt failed and, on their journey back to camp, they ran into Col Thomas G. Woodward's cavalry—over 100 men. Eight Federal soldiers were killed, two captured, and only two made it back to Fort Donelson safely. The stacked limestone pyramid of the Great Western Furnace remains standing today and can be seen within the bounds of the Land Between the Lakes National Recreational Area. Located off the main road, known as the "Trace," near the southern end of the park, the site has a pull-off area for cars and interpretive markers explaining the history of the furnace and iron smelting practices. Visitors can visit the furnace at no cost.
Tools
Key Facts
Brien, Newell, & Company built the furnace; West Tennessee became the south's largest pig iron producer
The furnace was unused throughout the war but was occupied by Union troops and the site of several skirmishes
Markers at the site explain its histo