East Tennessee & Virginia Railroad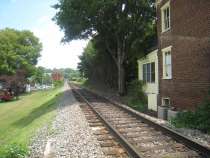 Between sabotage and political and internal problems, the Confederacy never exercised complete control of the East Tennessee railroads, inevitably hindering military operations in a land where political divisions ran deep.
Regional railroads did not appear in East Tennessee until the 1850s, rather late as internal improvements went in the 19th century. This was not for lack of effort, since East Tennessee boosters had been peppering their state legislature since the early 1830s with demands for waterway improvements and a railroad in the Great Valley. When the State of Tennessee finally authorized incorporation of the East Tennessee and Virginia Railroad Company, it provided no funding, and railroad supporters, mostly wealthy men in Washington County, formed a joint stock venture to finance the project. Completed in 1858, the railroad greatly enhanced regional economic prospects and, when war came in 1861, became East Tennessee's most hotly contested strategic prize. During the Civil War, the railroad functioned as a vital connection between western and eastern portions of the Confederacy, a dependence that came with a price—susceptibility to sabotage and subsequent disruption of supplies. A single, largely unguarded railroad track winding through mountainous terrain was a target ripe for exploitation by saboteurs using forest cover to avoid detection, a situation that did not go unnoticed by exasperated railroad officials. Because Confederate authorities in Richmond never officially commandeered the East Tennessee railroad, relations between railroad and military officials rapidly deteriorated, particularly in the war's early stages, before a working relationship was fully established. Local military commanders often ordered available trains to move without first consulting company officials. Confederate quartermasters in Richmond frequently delayed payment for services and, as an added annoyance, repudiated contracts made by local officers, even as Unionist stockholders balked at using the railroad for any military purpose whatsoever. Between sabotage and internal operating problems, the Confederacy never really exercised complete control of the East Tennessee railroads, a failure that inevitably hindered military operations in a land where political divisions ran deep.
Tools
Key Facts
Supporters financed the East Tennessee and Virginia Railroad
Completed in 1858, the railroad was a hotly contested strategic prize
Relations between railroad and military officials deteriorated, particularly in the war's early stages
Related