Battles of Blue Springs
Location:
6766 West Andrew Johnson Hwy.
Mosheim, TN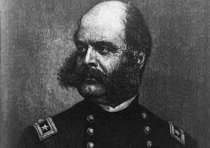 Blue Springs is considered the last major battle in Upper East Tennessee. Once again, Union troops ensured their control of Greene County.
One day in October 1863, the Civil War suddenly appeared on the doorsteps of the small Greene County village of Blue Springs, now known as Mosheim.

Union Gen. Ambrose Burnside had launched a campaign to diminish Confederate military strength and control in this corner of Appalachia. On Oct. 10, a Union force led by Gen. Samuel P. Carter's cavalry encountered Confederate cavalry commanded by Gen. John S. Williams encamped around Blue Springs. The battle began that morning, and an artillery duel continued all day. By afternoon, the Confederate lines—an estimated two miles in length—were stretched to the point of breaking.

A Union infantry attack led by Gen. Edward Ferrero at 5 p.m. breached the Confederate line, causing considerable casualties and forcing Gen. Williams to retreat towards Virginia. Accounts list the Confederate losses as 66 killed and wounded and 150 prisoners. Blue Springs is considered the last major battle in upper East Tennessee.

On August 23, 1864, a second battle occurred at Blue Springs when Union forces, led by Gen. Alvan Gillem, marching from Bulls Gap, met a small Confederate force on the same battlefield. The Union forces engaged pickets from the command of Confederate Col. Henry Giltner, driving them two miles back toward the ridge south of Greeneville road where they met additional Confederate forces. Col. Giltner's troops repulsed repeated Union attacks. A local boy, William Brown, pointed out a "by-road" to Union Col. John K. Miller, who used this information to reposition his men. He ordered another attack, which turned the Confederate left flank. A Union frontal assault then broke the Confederate line and began "a running fight, which was closed by night two miles beyond Greeneville, the enemy halting and endeavoring several times to reform," according to Gen. Gillem's report. Once again, Union troops had ensured their control of Greene County.
Tools
Key Facts
In October 1863 Union troops won the Battle of Blue Springs, which was the last major battle in upper East Tennessee.
In August 1864 a small skirmish took place at Blue Springs, which ensured the Union control of Greene County.
Related