Mabry-Hazen House and Bethel Cemetery
Location:
1711 Dandridge Ave.
Knoxville, TN 37915
Phone:
(865) 522-8661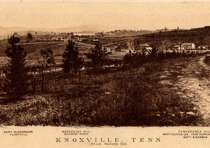 Although Confederate supporters, the Mabry home became a headquarters and supply depot for both Confederate and Union troops. Earthworks and fortifications were built throughout the property.
The Civil War's impact on the Knoxville homefront is nowhere better told than at this lovely Italianate dwelling, built just three years before the war began as the home of Joseph Alexander Mabry II and his wife, Laura Churchwell Mabry.

In 1861, the Mabrys were outspoken supporters of the Confederacy. Joseph Mabry received the honorary title of "General" for donating an estimated $100,000 to outfit local Confederate troops. C.S. Gen. Felix Zollifcoffer established headquarters here. Confederates also operated a railroad supply depot on the property and kept troops here.

In September 1863, U.S. Capt. Samuel Lunt occupied the home as his headquarters. Like many Knoxville businessmen during federal occupation, Joseph Mabry signed an oath of loyalty to the Union. Federal troops built earthworks and fortifications on Mabry's property, and Laura Mabry sketched a map on how the defense lines crisscrossed her home. Federal officers made Mabry's Hill the eastern anchor of the Union's defensive network north of the Holston River. After the Battle of Knoxville, U.S. Gen. Ambrose Burnside officially designated the position as Fort Hill, in honor of Capt. John W. Hill of the 12th Kentucky Calvary, who had died in the fighting.

At the foot of Mabry's Hill, local Confederates established Bethel Cemetery, which holds the remains of over 1,600 Confederates. Soldiers who died in the assault on Fort Sanders are buried there; however, most of those who rest there died of disease in military camps and hospitals around Knoxville. The cemetery also contains the remains of some 50 prisoners and 20 Civil War veterans. The names of 1,465 of these men are recorded on the undertaker's list. In 1892, the Ladies Memorial Association dedicated a Confederate monument that continues to stand watch over these men.
Tools
Key Facts
The Bethel Cemetery contains more than 1,600 Confederate dead, including 300 from the battle of Fort Sanders, and nearly 50 Union prisoners.
Related