Big Creek Gap Civil War Trail Marker
Location:
302 N. Tennessee Ave.
LaFollette, TN 0
Phone:
(423) 562-3316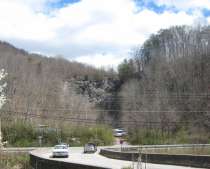 Known as the "Keystone of the Confederacy", this pass provides one of the only natural openings through the Cumberland Mountains, making it prime terrain during the Civil War.
Whichever side controlled Big Creek could outflank and "starve out" the forces entrenched atop Cumberland Gap — a strategy used by both Union and Confederate troops as the pass changed hands several times. Some of the fortifications and trench work remain in the area.
Tools
Key Facts
Called the "Keystone of the Confederacy"
One the only natural openings through the Cumberland Mountains
Changed hands several times during the war