Buck Lodge Fortifications (Fort Mitchell)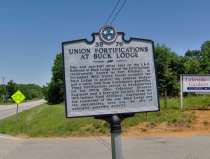 Buck Lodge was a federal stockade guarding the important rail lines.
The Buck Lodge site was another federal stockade meant to protect the vital Louisville and Nashville railroad line. Manned by the 13th Indiana Field Artillery and the 106th Ohio Volunteer Infantry, the fortifications protected two bridges as well as a water tank. The site is not open to the public.