Bulls Gap Historic District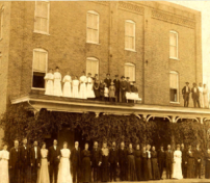 The Main Street area is fully intact and includes antebellum buildings and other structures of historic importance.
1880s Main Street is still fully intact. Includes 27 structures, ranging from Old Country Store to Gilley's Hotel and private residences. This was the site of several skirmishes and campsites during the Civil War. One of the bridges successfully destroyed by The Bridge Burners was Lick Creek Bridge in Bulls Gap.

Bulls Gap was a strategic location for both armies during the Civil War and was a fortified town and from 1863 to 1865, with several battles over control of the town and railroad. Throughout most of the war, the Federal forces maintained control of the town.

The Battle of Bulls Gap, in November 1864, pitted Confederate Major General John C. Breckinridge against Union forces guarding the railroad. Breckinridge believed that Confederate sympathizers in the area would help drive the Union from the area. After four days of fighting, Union troops, headed back to Russellville in search of supplies. Breckingridge headed back to Virginia, having created a temporary Union setback in its plans to rid East Tennessee of Confederates.