Chattanooga Creek Picket Lines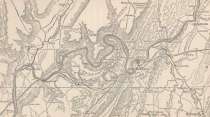 Picket Lines in this area were often sources of social interaction between troops as well as lines of demarcation between armies.
Chattanooga Creek, in the valley that separated Missionary Ridge and Lookout Mountain, often was the only thing that separated warring troops during the Siege of Chattanooga. Pickets along this line often declared truces, exchanged conversation, and traded food and other goods much to the chagrin of their officers.