Confederate Enlistment Center at Red Boiling Springs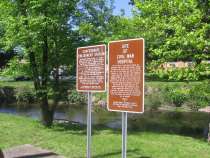 The village served as an early Confederate recruitment camp, with seven companies of the 30th Tennessee Infantry and one company of the 28th Tennessee Infantry organized in the town.
This late 19th and 20th century resort town, still home to several National Register-listed hotels, has an important Civil War story which has been marked by several interpretive signs.

In October 1862, federal soldiers from Bowling Green, KY, raided the town, taking over 600 barrels of flour and some 60 prisoners. A Civil War hospital, near the site of the present nursing home was also established here and served soldiers from both sides.
Tools
Key Facts
Red Boiling Springs was a central crossroads for both the Union and Confederate soldiers
The hospital served both Union and Confederate soldiers
Related