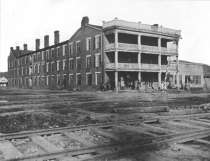 Now the Sheraton Read House, this Chattanooga hotel has housed luminaries from Jefferson Davis to Al Capone and once served as a Union hospital when the Civil War overran Chattanooga.
Now the Sheraton Read House, the architecturally distinct building opened as the Crutchfield House in 1847. The Thomas Crutchfield family built their inn directly across from the rail terminal, just as the Western and Atlantic rail lines opened, linking Chattanooga with Atlanta and other commercial centers.



In January 1861, on his way home to Mississippi after resigning from the U.S. Senate, Jefferson Davis stopped here and spoke to the crowd gathered in the hotel lobby. Contemporary accounts agree that his remarks on the issue of secession were brief and temperate. However, William Crutchfield, brother of the inn's owner, jumped onto the counter and reviled Davis as a traitor. Passions flared in the divided crowd. Bloodshed was barely averted when Thomas Crutchfield, Jr., a southern sympathizer, hustled his brother away in the nick of time.



Not long after, Thomas Crutchfield sold the hotel. Within two years, the Civil War engulfed Chattanooga. The hotel was the first building occupied by Union forces and converted into their hospital. The hotel withstood the ravages of the entire war only to burn to the ground in 1867.



In 1871, as the city's economic pulse began to beat faintly, Dr. John T. Read and his son Samuel built a new inn on the site of the Crutchfield House and opened on New Year's Day 1872, under the new name the Read House.



The hotel's reputation grew, and The Read House became an address of distinction. Winston Churchill, Charles Laughton, Tallulah Bankhead, Gary Cooper, Eddie Rickenbacker, and Al Capone are just a few of the famous names on its historic rolls.