Denmark Presbyterian Church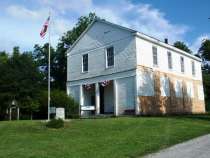 The oldest Presbyterian church in west Tennessee has a strong Civil War history and is just four miles from the site of the Battle of Britton Lane.
The oldest Presbyterian church in west Tennessee was founded on Cub Creek in 1821, before the town was settled. The congregation moved to Denmark but outgrew its home at a Baptist school. Using slave labor, the Snipes brothers had the church built in just six days in 1854, and ready for worship the next Sunday. It originally also housed Masonic Lodge # 154 on the second floor. Many signatures of Masons are still visible on the wall and door of the lodge.



Civil War-era stories include that of Confederate soldiers hiding under the hoop skirts of their sweethearts when Union troops searched the church during a Sunday service. The Denmark cemetery is on the original site of the Denmark Presbyterian Church, the largest cemetery in the area. Graves there date back to 1823, including many Civil War soldiers. Two soldiers' bodies were brought to the cemetery after the Battle of Britton Lane, just is four miles away. It includes a mass grave of 28 Confederate soldiers killed in 1863. Many headstones are made of white Italian marble. General John Ingram, commander of the Denmark Danes during the Civil War, is buried at Denmark Presbyterian cemetery.



The building is listed on The National Register of Historic Places and Tennessee Trail, and is overseen by the Big Black Creek Historical Association. Plans are to convert the church to a museum after repairs are complete.
Tools
Key Facts
Many soldiers from the nearby Battle of Britton Lane are buried here.
The "Denmark Danes," which organized as the 6th Tennessee Regiment Company K, were a local regiment in the Civil War.