Hurst Nation Historical Marker
Location:
Old Hwy 45 & Buena Vista Rd.
Bethel Springs, TN 0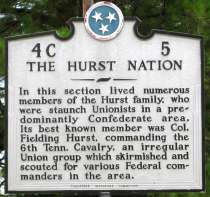 This area was once the "Hurst Nation," a section of northwest McNairy County owned by Fielding Hurst, his siblings and allied families during the Civil War. The Hursts were publicly Unionist—a sentiment so strong that Fielding Hurst led a unit of his own family members and residents of Hurst Nation to serve with the Union Army. The old Hurst home is private property and not at this site.