Immanuel Episcopal Church
Location:
35 2nd St.
La Grange, TN 38046
Phone:
(731) 764-2545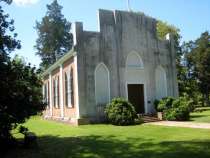 This church was built by slaves and used as a Union hospital during the Civil War.
This structure is a nearly exact replica of the Episcopal Church in Warrenton, North Carolina. Built by slaves on donated land in 1842, the church was occupied by Union forces after the fall of Memphis on June 13, 1862. It was confiscated as an ordnance depot, then used as a hospital for Union soldiers and the pews used to make coffins for the dead. During a renovation, workmen revealed where patients had written their names, addresses and Bible verses on the walls.
Tools
Key Facts
Built by slaves in 1842
Used as a Union hospital
Pews and furniture were used to build coffins for dead soldiers