Mansker Creek
Location:
745 Caldwell Drive
Goodlettsville, TN 37072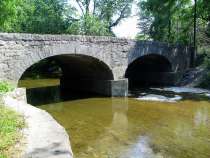 The important Louisville and Nashville Railroad ran close to the creek here and, beginning in 1862, was protected by several companies of Union troops. Confederate Col. John Hunt Morgan attacked Union cavalrymen here Aug. 20, 1862, trying to free men and boys arrested in Gallatin. He succeeded in freeing the captives, but Union soldiers retaliated a month later and shot up a nearby Confederate camp.


Tools
Key Facts
Site of Gen. John Hunt Morgan's raid to free Confederate captives.
Related