Cumberland River Campaigns
Location:
1085 N. Grundy Quarles Highway
Gainesboro, TN 38562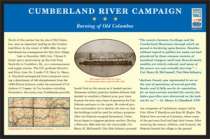 Just north of here in the water was the town of Old Columbus that was a landing on the Cumberland River. In December 1863, Union Gen. U.S. Grant dispatched a convoy up the river on a reconnaissance and supply mission. Confederate guerillas on the shore at Gainesboro and other nearby places fired on the convoy. The area - especially the small town of Columbus - continued to be a hotbed for Southern partisans. During a February 1864 Union raid from Gainesboro, Columbus was burned to the ground.