Battle of Riggins Hill
Location:
590 Magnolia Drive
Clarksville, TN 37042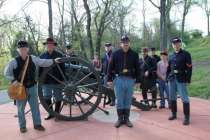 After Confederates recaptured Clarksville in August 1862, a Union detachment was sent to reclaim the town. Confederates defended this area but were soon pushed back through town by the larger Union force. Clashes continued in this area continued until late 1864.