Gibson County Courthouse
Location:
309 S. College Street
Trenton, TN 38382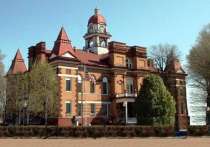 Confederate Gen. Nathan B. Forrest's cavalry brigade captured Trenton, an important stop on the Mobile and Ohio Railroad, on December 20, 1862. He and his men occupied the town briefly before riding on toward Union City the next day. Forrest's aide, Capt. Charles W. Anderson, allegedly entered the Gibson County courthouse here, gathered the bonds and oaths of allegiance to the United States that Trenton residents had signed, piled them in the yard, and set them afire.