Chattanooga Creek Picket Lines
Location:
2 Broad Street
Chattanooga, TN 37402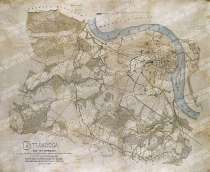 During Confederate Gen. Braxton Bragg's siege of Chattanooga, part of his line followed the bends of Chattanooga Creek in the narrow valley that separated Lookout Mountain and Missionary Ridge. On this line both armies deployed advanced guards or pickets to warn of enemy attacks. These soldiers dug rifle pits to make their positions safe from enemy fire. Shortly after the siege began, however, a short truce was declared to let a train of Union ambulances retrieve wounded soldiers from the Chickamauga battlefield.