Attack at Suck Creek
Location:
1831 Suck Creek Road
Chattanooga, TN 37405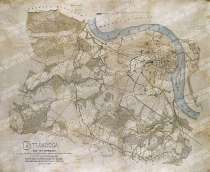 During the early days of the siege of Chattanooga in 1863, the Union army's only supply route followed a long and difficult road that ran from Bridgeport, Alabama, north up the Sequatchie Valley and then east behind over Walden's Ridge on the Anderson Pike. The road descended the ridge just north and ran along the bank of the Tennessee River to Chattanooga. On October 8, the 4th Alabama Volunteer Infantry took a position "along the overhanging bluffs of the Tennessee River on Raccoon Mountain," across the river from where you now stand.