Lairdland Farm House
Location:
3238 Blackburn Hollow Road
Cornersville, TN 38478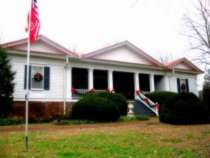 Here, on February 10, 1867, James Knox Polk Blackburn and Mary "Mackie" McMillan Laird were married on the porch of the Lairdland farmhouse. She was the daughter of Robert H. and Nancy Mildred Gordon Laird, who owned the thousand-acre farm called Lairdland. Blackburn, born in Maury County on February 20, 1837, moved with his parents to Texas in 1856 and taught school there. In September 1861, he enlisted in the 8th Texas Cavalry, known as Terry's Texas Rangers. He later attained the rank of captain and fought in the battles of Shiloh, Murfreesboro, and Chickamauga, among others. In September 1863, the 8th Texas Cavalry was assigned to Gen. Joseph Wheeler's brigade to raid Union Gen. William S. Rosecrans's supply line in Middle Tennessee and capture his wagon trains between Nashville and Chattanooga.