Fouche Springs Engagement
Location:
Highway 20
Summertown, TN 38483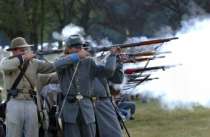 Some of the first significant fighting of the campaign occurred near this crossroads Nov. 23, 1864, as Gen. Nathan Bedford Forrest's cavalry led Hood's army into Tennessee. Forrest snapped up scores of Union prisoners as his force fanned out over the area. These small, but bloody, battles alerted Federal commanders in Tennessee that a serious threat was coming.