Bean's Station
Location:
5980 Highway 11W South
Bean Station, TN 37708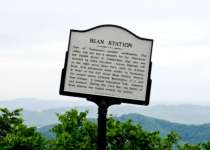 Confederate Gen. James Longstreet abandoned his siege of Knoxville early in December 1863 and withdrew northeast with Union Gen. John Parke following distantly. Parke sent Gen. James Shackleford ahead to harry Longstreet, who camped with his main force at Rogersville, where he took command of all upper East Tennessee Confederates. When Shackelford camped near Bean's Station north of the Holston River, Longstreet decided to turn and destroy the Union force. Before you is the battle site, partly covered by Cherokee Lake in 1940; some earthworks remain.