Ambush at Meadorville
Location:
3784 Ferguson Hill Road
Lafayette, TN 37083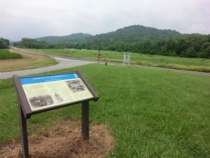 During the Civil War, Macon County experienced internal strife as did many other areas of Tennessee. In the spring of 1863, a Confederate partisan band established itself in this part of the county, where it harassed Federal units and threatened local Unionists. This rural hamlet experienced a serious firefight between Union cavalry and infantry and the Confederate irregulars on May 2, 1863. Confederate guerrillas hidden in the brush of Goose Creek ambushed Union Cos. D and E, 11th Kentucky Infantry, and Co. I, 8th Kentucky Cavalry. The Confederate bullets found only one victim--a Federal cavalryman's horse--while the Union troopers killed one guerrilla, captured another, and took five Confederate horses.