Covington Court Square
Location:
200 West Washington Street
Covington, TN 38019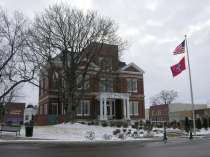 On June 10, 1861, 943 residents of Tipton County voted in favor of secession with only 16 votes against. Local men already had begun forming volunteer military companies. The first of these, the Tipton Rifles, trained and drilled at the old fairgrounds in Covington under the command of Capt. John Turner until they departed for Germantown to become part of the 4th Tennessee Infantry.