Cumberland Caverns
Location:
1437 Cumberland Caverns Road
McMinnville, TN 37110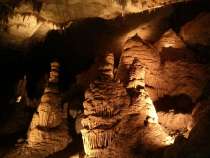 Even before Tennessee joined the Confederacy in 1861, officials examined the state's caves for the nitrogen-containing compound called saltpeter, an essential ingredient in gunpowder. The soil at Cumberland Caverns was ideal--saltpeter had been mined there in Henshaw Cave during the War of 1812. Nashville's Sycamore Powder Mills, the larger of two major gunpowder mills in the South, used saltpeter, charcoal, and sulfur to make gunpowder.