A Railroad Town
Location:
Old Morrison Road near North Chancery Street
McMinnville, TN 37110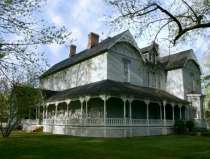 McMinnville's location at the end of the Manchester and McMinnville Railroad shaped the town's Civil War experiences. Strategically important industries here included pork and mule breeding, fruit and apple brandy production, a textile mill, and saltpeter works at nearby caves. During the war, the opposing sides occupied McMinnville, which changed hands at least five times.