Maplewood Confederate Cemetery
Location:
920 Maplewood Avenue
Tullahoma, TN 37388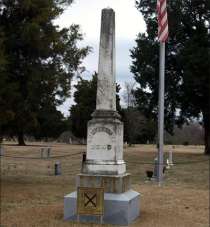 Tullahoma was the headquarters and logistics center of the Confederate Army of Tennessee for the first six months of 1863 after the Battle of Murfreesboro. At least three hospitals here treated soldiers wounded during Gen. Braxton Bragg's 1862 and 1863 engagements or who suffered from disease, illness, or injury. More than 500 soldiers from virtually every state in the Confederacy who were killed or died near Tullahoma are buried here. At first, wooden headboards marked the graves, but soon all vestiges of individual markers were lost in what became essentially a mass grave.


Tools
Key Facts
Army of Tennessee headquarters after the Battle of Murfreesboro.
More than 500 Confederate soldiers buried here.
Related