Civil War on Yellow Creek
Location:
2199 TN Hwy 46 (Yellow Creek Rd.)
Dickson, TN 37055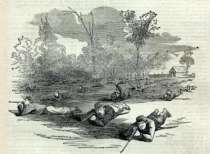 During the Civil War, Yellow Creek's rough terrain and the widespread Confederate sentiment of its inhabitants provided a safe refuge for guerrillas operating in Dickson County and the surrounding area. Regular Confederate cavalry also came through the Yellow Creek valley, including Gen. Nathan Bedford Forrest's command on the retreat from Fort Donelson in February 1862, and again a year later when he and Gen. Joseph Wheeler sidestepped an interdicting Federal column after their attack on the fort failed.