Connection to Johnsonville: U.S. Military Railroad
Location:
358 N Main St. Kingston Springs
Kingston Springs, TN 37082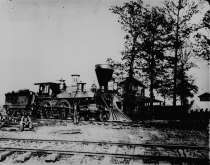 In November 1863, Federal troops occupied Kingston Springs to serve as headquarters for the supervisors of the U.S. Military Railroad Construction Corps. They oversaw the construction of this section of the Nashville and Northwestern Railroad. When it was completed, the rail line connected Nashville to the major Union depot at Johnsonville on the Tennessee River. Federal commanders impressed both free blacks and escaped slaves to build the railroad, side-by-side with Irish immigrants. Together they constructed three wooden trestles near here, as well as bunkers, blockhouses, and fortifications to guard the line.