Ramsey House: A Confderate Family in Unionist Country
Location:
2614 Thorngrove Pike
Knoxville, TN 37914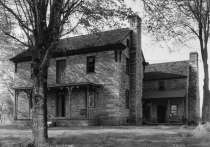 The Ramsey Plantation illustrates the story of a Confederate family in Unionist East Tennessee. The family, which supported secession, owned two thousand acres and four to eight slaves. Born here in 1797, James Gettys McGready Ramsey was among the state's foremost early historians and the author of Annals of Tennessee. He kept many significant artifacts and documents at his nearby house, Mecklenburg. Federal troops later burned Mecklenburg, destroying his library and a large quantity of Tennessee historical papers. Ramsey accompanied the Confederate armies as a surgeon and also served as the tax collector and disbursing officer for the state's Confederate government. He disbursed approximately $43 million from the state treasury during the war.When the war ended, he had just $42 in personal funds.