Mobile and Ohio Railroad
Location:
114 N Second St
Selmer, TN 38375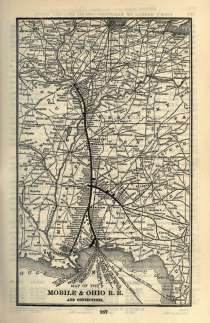 This is the Mobile and Ohio Railroad which was chartered in Alabama, Mississippi, Tennessee, and Kentucky in 1848 to provide a vital commercial link between the Gulf of Mexico and Cairo, Illinois, on the Ohio River. The last miles of track were laid in April 1861 just as hostilities erupted at Fort Sumter. The strategic significance of the railroad quickly became apparent. By the spring of 1862, thousands of Confederate troops from as far away as Pensacola and Mobile steamed into southwestern Tennessee and northern Mississippi on the railroad in anticipation of an imminent Union offensive. Corinth, Mississippi, was among the most important railroad junctions in the western Confederacy. Bethel Station, north of here, was also a strategically significant point that provided access to the Tennessee River and the interior of western Tennessee.


Tools
Key Facts
Originally a vital commercial link between the Gulf of Mexico and Illinois.
Railroad had strategic importance, conveying Confederate troops into Mississippi and Tennessee.